Thursday 25th August 2022
I hope you are enjoying your summer and making the most of the beautiful sunshine.
August has so far continued to bring a lot of hot, dry weather, with the greenkeeping team crossing fingers for a few rainy days! It's been a busy summer season so far, with plenty of golf competitions and gym challenges.
I hope you enjoy reading our latest news in this month's newsletter. In the meantime, stay cool and don't forget the sunscreen out on the course!
Course Report
July and August have been probably the most difficult and rewarding months ever during my time at The Warwickshire. The longest period of dry weather I have experienced here tested our resolve and certainly tested the irrigation system. Considering the age of our irrigation network it has held up pretty well. What it does highlight is the need for better and more targeted sprinkler heads in a few areas, especially around the tees. This will be another ongoing task over the next few years.

As you will have noticed, both the big lakes on Kings 7 are now very low and we are monitoring the levels daily to ensure we have enough water to last until the rains come. It is heart-breaking after keeping the fairways green throughout most of the season to have to resort to switching the fairway irrigation off and watch them turn brown and dry. This was a last resort but essential to ensure we have enough water to keep the greens and tees alive. Should the dry spell continue, unfortunately the next step will be to switch off the tees. The good news however is unlike the majority of courses we still have some moisture in the ground and as long as we get some rain fairly soon, the place will green up much quicker.

Someone asked me about the fish in the lakes when the levels are so low - rest assured, the fish will be absolutely fine. There is still plenty of water to sustain the fish population and there is a constant flow of fresh oxygenated water going into the lakes. You will also have noticed that we have turned off the fountain to prevent it sucking up silt and debris from the bottom and damaging it. It also prevents further evaporation.

On a positive note, despite record temperatures we have still managed to keep the greens in really good shape. We have been hand watering the greens with a wetting agent and micro tining them to give the water every chance of penetrating the surface rather than just running off. On top of this we have been performing a weekly scarification to reduce seed heads. We have also implemented a revised regular feeding programme and the results are very noticeable.

Another positive is that the overseeding that we carried out on the Kings in the spring has given excellent results and the greens on the Kings are looking much stronger than the Earls greens in my opinion. We plan to roll (no pun intended) this out on both courses in the future. All this means more good news for you pace-hungry golfers, as thanks to being able to keep the greens in good shape this year at 3.5mm, we can now go a little lower with the cut and have in fact just dropped down to 3.25mm, so you should see further improvements to the greens. Why haven't we done it sooner, I hear you cry? The answer is simple; we had every intention of doing so until the drought hit and there were too many unknowns to risk doing this during such a long period of dry weather. There is no doubt that the increase in course investment which allows us to use better quality fertilisers/wetting agents/overseeding, Mary Martin and the ladies' section supplying us with freshly baked cakes and having a great team this year are all huge factors in the improvements.

"Why are they spreading all that sand around when it's this dry?" Following the success of last year's sand capping we are continuing with our project to help the land drain more freely. Obviously we could have done with a little less dry grass to spread the sand on, but better this way than to wait until it's already wet before we put it on. This way the sand has time to work its way into the sward.

Sadly, the badgers are back in force earlier than expected and have already attacked two tees on the Castle course. We're assuming that as the ground is so dry that they have sought out a nice moist bit of ground to dig for grubs in. Last year we experimented with using dry dog food and bird food to discourage them from venturing onto the course, which as you can imagine caused a few raised eyebrows at HQ when they saw an invoice for dog food. This seemed to help last year and we will try again this year starting from now.

Thank you for your positive feedback and support so far this year. It's really great to see our course starting to take shape and the team are very proud with what we are achieving. We have a clear direction of how we can improve your course experience and we're focused on delivering you the best golf experience in Warwickshire. Lots to do… did I mention we accept cakes?

Dan Rowe, Course Manager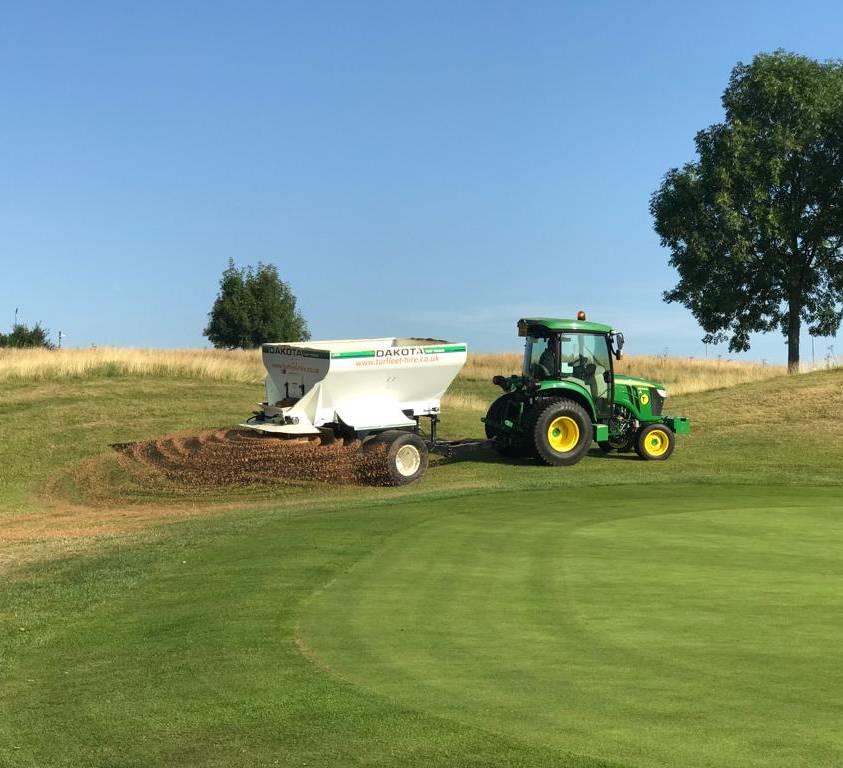 Seniors triumph in annual Triangular match
After a postponement in 2021 due to COVID, three squads of 24 fit seniors from Lichfield, The Tytherington and The Warwickshire clubs assembled on Thursday 28th July on Kings to battle for the prestigious silver trophy. The weather maintained its warm rays and the course looked wonderful as the 72 players spread over the landscape for a shotgun start. Playing in pairs with a 4BBB stableford score required to add to the overall team total meant every shot counted, and so it was proved to be when the final scores were totalled after the splendid meal.
Continuing in their winning ways, Derek Spencer and Brian Steer returned the highest pair score of the day with a very creditable 44 points. Well done to both.
The team event saw a series of high scores from pairs from all three clubs, giving the committee cause to recount twice once the final totals were calculated. At the end of this process, the first two teams were separated by one shot – the tightest of margins – before the winners were declared as The Warwickshire!
The Warwickshire 470
The Tytherington 469
Lichfield 446
Many thanks to Sam Gill at the club for his organisation in helping get this event back on at short notice. Finally, many thanks to Mel Turner who has organised this event superbly for the last six years and is now taking a well-earned break.
July 25th WLCGA Summer Meet
The WLCGA Summer Meet, Pairs BB, at Ladbrook Park GC on 25th July saw The Warwickshire ladies out in strength, with seven pairs competing on the day. Winning the Salver with best net winners were our ladies Nicky Woodhouse and Mindy Dosanjh with a net score of 58. The best Net Score for Joint handicaps over 40.8 was also won by our ladies Avril MacLeod and Jenny Hindmarch.
Sparrow Salver Greensomes Winners
Congratulations to Susan Parkes and Michael Stevens for winning the Club Sparrow Salver Greensomes Trophy recently.
This trophy was donated by Roger Sparrow, a well respected and much loved previous men's Captain, and it was great to have Nilla, his partner, come along to present his salver to the winning pair.
Lady Captain's Day
Lady Captain's day was a great mixture of a high scoring Individual Stableford Competition for the coveted Captain's Day Trophy plus a team competition.
There was a great buzz to the clubhouse with some fun buzzy bee outfits on display and a 'hive' of activity. The Food and Beverage team with Nick at the helm provided a wonderful cream tea for all the ladies to enjoy. The greens and the course created some interesting challenges for the ladies. The Lady Captain's Trophy winner for 2022 was Michelle Pendrey with 40 points, a fantastic score. The winning team in the 18-hole Buzzy Bee Characters Alliance was Sarah Grindal, Sheila Kane and Caroline Rhodes. Congratulations to all and thanks to everyone who supported the day.
The Midland South Junior Girls Team
Wednesday 27th July saw The Midland South Junior Girls Team Competition played on Earls. Three of our young juniors, Jess, Grace and Sophie, were selected to represent Warwickshire County Girls in a very competitive Team Stapleford competition. The field included teams of six juniors from six counties, with the best three individual scores per team to count.
Buckinghamshire County won the day with Warwickshire County coming in third just three points behind. Well done to our three girls from The Warwickshire. Sophie and Jess are both only 12 years old and doing so well. Many of you may recognise Grace as she works in the club bar and is always smiling. Wishing the three girls a successful season as well as all the junior section.
Women on Par
After our successful Women on Par initiative in May, the enthusiastic participants asked if we could offer any follow up. Thanks to many Warwickshire Ladies' volunteers, we had four fortnightly evening sessions on the Par 3 where members guided small groups around with useful tips, followed by a friendly get together over a drink. We certainly managed to show them that you don't have to be a great golfer to be a member!
The initiative culminated in six holes on Kings on Wednesday 17th August. Ladies who had not previously been on the "big course" were particularly excited, and hugely enjoyed being able to hit into big open spaces. We finished on hole six, so they didn't get to experience the joys that the water can provide!
All the ladies were appreciative of the time given by our members, and for many this was a valuable stepping stone from health club and par 3 membership to potentially joining the ladies' section. We look forward to welcoming them.