Thursday 11th November 2021
As we move into the winter months, we're already looking ahead to next year to see how we can improve your experience. Now through my first year at the Club, I'm pleased to say we are now in a position to start moving towards a better balance for all.
Throughout the last six months, we have had contractual obligations with golf days and events sold throughout 2019 and early 2020. As such, much of the business did not reflect the strategy moving forward meaning prices were too cheap, shotgun starts were allowed without thought or cost attributed and our 10am curfew for the normal play was encroached. I'm very happy to say that since our new Events Manager Ruth started, we have moved to a strategy of selling fewer tee times but with better yield, meaning less traffic on the course and more room for you as members. The 10am weekday and 10.30am weekend starting point has also been adhered to for all new bookings.
Moving into next year, we've tweaked things further. Prices have again been pushed to a level befitting the club and our aspirations. Shotgun starts now carry a large financial penalty meaning they will naturally become less frequent. We've also put a limit on the number we can sell, again to avoid the problems we experienced. Finally, we've increased the Friday start time to 10.30am to reflect weekend start times.
On top of this, we are working closely with our fantastically supportive committees to help take more pressure away from the peak times.
With all of that in mind, however, we do need your help to address slow play, which has often been the devil at the Club. Marshals can only do so much and it's down to all players to move at a good pace through the course and to be mindful of others. Thank you for your cooperation, which is much appreciated.
In other news, we successfully completed our sand capping at the end of August. This is something we need to continually do over the next few years, as the more sand we can get into all the surfaces the better they will be. The next large investment is the completion of our irrigation control system. This final £80K stage has been ordered and we're just awaiting an install date.
We have now started work replacing the external windows & doors throughout the Golf Clubhouse. From a larger project point of view, we are hoping to finalise plans soon for a full driving range redesign. This is a huge project with a lot of complexity and will of course be subject to approval from planning authorities.
We have some amazing plans for many improvements throughout the Club over the next few years and I'm really excited to be part of the team leading this. It's an amazing Club with so much potential and I really hope you will enjoy the future with me.
I'd like to end with a quick personal thank you to Kathy and Andy who have both passed the baton on for 2022 (Ladies and Seniors Captains). You have both been amazing, true ambassadors of the Club and I am eternally grateful to you both for giving me a huge amount of support through what has been an incredibly difficult first year.
Patrick Ferguson, Club Director
Fireworks Night 2021
Thanks to everyone who attended our recent fireworks night! Almost 2,500 people flocked to The Warwickshire Golf Club on Friday 29th October to enjoy the annual firework display. At 8pm crowds watched as the club was illuminated and skies lit up by the biggest firework display ever hosted here. We were fortunate with the weather - a cold clear night, a fantastic display and a large crowd to enjoy the display alongside an army of volunteers to help out on the night.
Course Report
With the 2021 golfing season drawing to a close, here's a brief update on what we have been doing on the golf course to keep it playable for you through the winter, alongside catching up with some of the essential work we need to carry out to keep the grass healthy.
We recently spread 1000 tons of sand on historically wet areas in an attempt to keep the course more playable throughout the winter - even Patrick got involved!
We have also taken the opportunity to add some more sand to some of the bunkers. Though this may have been a long time coming, it's still in progress and there may yet be more news about the bunkers over the coming months. We also have plans to remove a couple of bunkers that are dangerous for us to maintain and poorly constructed.
Throughout the end of October, we spiked and slit the Earls greens. The weather did not help us at all, with torrential rain slowing things down substantially. Despite the bad weather, everybody got stuck in and got the job done. Whilst it may not be a perfect finish, it was work that had to be done and should now allow you to have the longest golfing season possible without disruption. So the Earls greens are now ready for winter, and we've now started work on the Kings.
This year we have used the tractor-mounted Shockwave to create lateral slits followed by the Procore spiker with solid tines and then covered each green with between 4-5 tons of sand to fill the holes. We opted for this method due to the time of year and the risk of bad weather which proved to be a good decision, but we will need to do some hollow tining in the spring as this process removes thatch from the greens and hasn't been carried out for some time.
The result of this work will obviously be sandy, bumpy greens for a few weeks, but please remember you were still playing on good greens until late October this year when others carried out their maintenance earlier and saw disruption during the summer months. Yes, it may take slightly longer to recover this time of year, but we are seeing milder weather much later into the year these days and there is still enough warmth in the ground to sustain growth and recovery.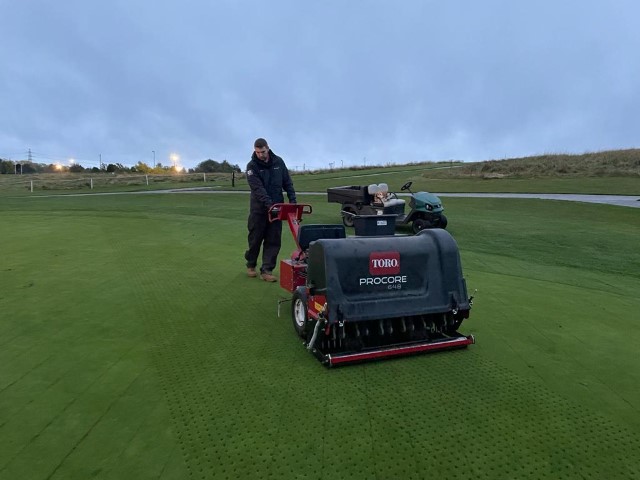 Ladies Presentation Evening & Captains Hand-over
What a relief it was to be able to enjoy our Annual Presentation and Handover Evening on 21st October, as last year's couldn't take place due to Covid-19 national restrictions. We had a great evening and many thanks to Chef Marcin and all the F&B staff who delivered a super meal to 66 ladies.
We celebrated a really busy and successful season with approximately 79 players (64 ladies and 15 men) receiving prizes, trophies and special awards. A fantastic spread of results across the section.
Thank you to Patrick Ferguson, Tony Roche and their team for helping me achieve my goals and for the lovely flowers. Also, a big thank you to the Ladies Section for the John Lewis vouchers which I will enjoy spending. A final thank you to all the wonderful volunteers who supported me throughout the two years and who ensure that our section runs smoothly and efficiently. At the end of the Presentation Evening, I handed over the Section's Baton to Mary Martin, our new Ladies Captain, who has been a hardworking and proactive Vice-Captain. I know the Baton is in good hands and look forward to taking part in the many events and competitions that Mary and Caroline Rhodes (Vice Captain) have planned."- Kathy Goddard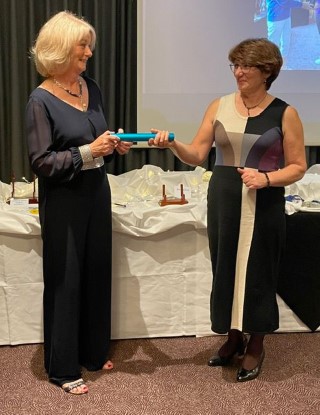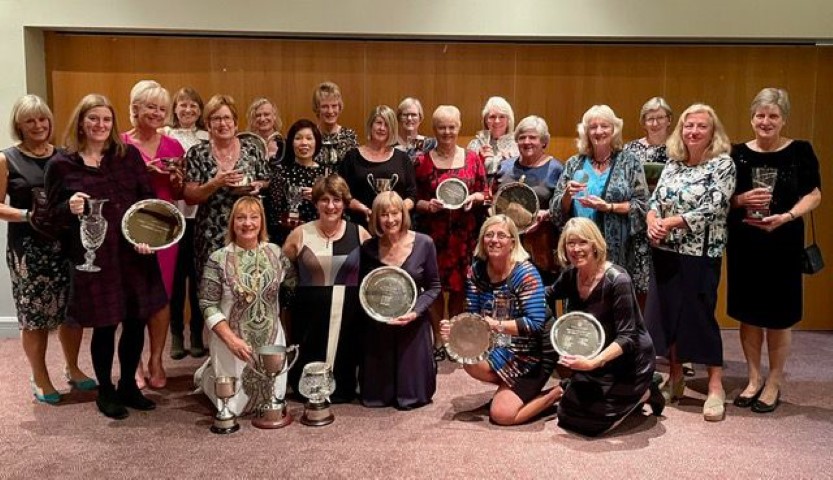 Halloween Rumble
On 30th October the club's annual Halloween Rumble took place with over 80 entrants. With early morning torrential rain, the event was in danger of being cancelled, but our hardy members were never going to let that happen! As the dark clouds dispersed out came the blue skies and bright sunshine.
A spicy butternut squash soup was served for members at the halfway mark by General Manager Patrick Ferguson, Golf Club Manager Tony Roche and F&B Supervisor Katie. The winning team consisting of David Gabbitas, Nick Castle, Robert Keith Kent and Omar Ehsan came in with a superb 112 points.
You Asked, We Acted
Aeration
Over the last couple of weeks, the club underwent its annual process of punching little holes into greens (aeration of greens), which opens up growing room for grassroots and helps keep the turfgrass healthy. Golf courses take a lot of wear and tear over the season, and the turf is no exception. To ensure the grass is healthy and consistent a form of aeration must take place during and towards the end of the year.
Thanks for your patience and understanding while this process was taking place and we hope it did not disrupt your enjoyment of both the Kings and Earls courses.
Slow Play
A final report of the year for the golf industry might actually be more positive than first predicted. The number of people participating in golf have reached a record high.
This brings with it a few problems, one of which is slow play. Golf doesn't need reinventing to tackle slow play as the solutions are already written in the rules. We must all work together to tackle this problem so our members and visitors can enjoy the game to its fullest on our two wonderful golf courses.
Latest News from our Golf Pro
'The Warwickshire' Ambassador George Gill
"Over the last 6 months, I've had the privilege of representing The Warwickshire in my first season as a professional golfer. During the season I competed in 16 events on the Clutch Tour, culminating in a 38th place finish in the Order of Merit, placing me as one of the highest-ranked rookie players."
During the year, my growth as a golfer and competitor has been more profound than I could have foreseen. Not only have my physical abilities improved, but I've also invested considerable time and effort into understanding the mental side of golf and the crucial intangibles of strategy and course management. My ability to deal with the pressures associated with competing professionally is unrecognisable from the nervous wreck practically unable to get the ball on the tee at my first event!
Highlights of the year so far have been a T2nd place finish in the South of England Open and 3rd place finish in Regional Qualifying for the EuroPro Tour. At the South of England Open back in August, I shot back-to-back rounds of 68 (-4) to get into a playoff with two other professionals. Despite finishing in defeat, the playoff and tournament overall did the world of good for my confidence. I had achieved the tied best score over 36 holes in a very competitive field which included Walker Cup players and European Tour experienced players and had earned my first paycheque as a pro. It was a performance I could be proud of and more importantly, proved to myself that I could compete professionally.
To finish the season I qualified for and competed in Final EuroPro Qualifying on 13th-15th October. With rounds of E and +1, I, unfortunately, missed the cut into the final round by 2, with the putter to blame! I will, however, receive some starts in 2022, taking me another level up the golfing ladder.
As the first years go, it's not been perfect but I'm proud of my performance, optimistic about the future and eternally grateful for the continued and ongoing support of everyone at the club. As members, you have been incredible in providing words of encouragement and advice and have always been eager to ask how it's going. I have known many of you since I could barely see over the counter in the Pro Shop and this club and your support of my golfing journey means the absolute world!"