Friday 24th September 2021
While the summer may be behind us, as we head further into autumn and the mild weather continues there's a wonderful feeling of optimism in the air. It brings me great happiness to see your smiling faces again after so many months behind screens and masks.
I hope you've enjoyed a wonderful summer of golf and had the chance to catch up with friends and team members. There's still a lot of exciting events and competitions planned for our autumn golfing calendar.
The Sand Capping project has been going really well and we're very happy to have taken on this task internally. This allowed us to purchase a greater quantity of sand and hopefully have a bigger effect over more of the course. It is really important to remember that this project is ongoing and will need to be repeated for many years to come. This isn't an overnight fix but will help enormously as we continue to help aerate and change the soil structure. I couldn't resist having a little go myself!
We have our second phase of the irrigation project coming soon which will complete the replacement and enable us to manage our water more effectively throughout the drier times. This represents a further £80K investment and a giant step forward for Dan and his team in the day-to-day management of the course.
Towards the start of November we will be replacing the external windows in the Golf Club house and function suites. There will be some disruption but we hope to keep this to a minimum so that we don't affect your daily coffee and bacon roll! This is a further £75K investment into the improvements at The Warwickshire.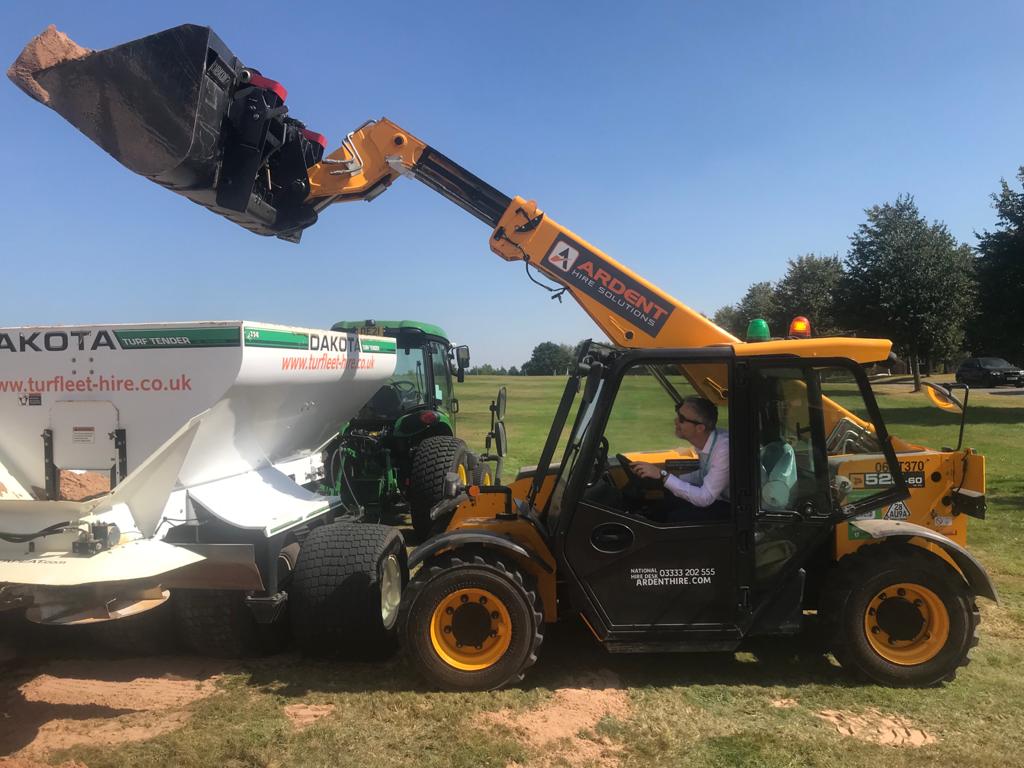 Course report
Over the next two weeks about 1,000 tonnes of sand is being delivered. During the first phase the sand is being distributed on all the walk off areas from the greens, tee banks and potential wet areas on the course such as Kings two, Earls three and twelve. Not only will this help to reduce 'water logging' on the surface but it will also help to reduce future wear.
The process involves applying a thick layer of sand onto existing turf areas to help to improve both surface drainage and general playing areas. Sand Capping allows us to concentrate on these areas whilst keeping everything open. The only evidence of us doing this will be some sand lying around whilst it dries. We will of course be following up by dragging and brushing the sand into the sward.
September is an ideal time to carry out this task during the growing season so that the grass can grow through the sand and form a firm dry surface. If this is performed in winter months, the grass can be suffocated and the sand less easily worked in. This really is the start of the process and our aim as ever is to bring the standards of the course up to where we all believe it should be.
By improving our winter resilience, we can look after and improve the surfaces throughout the rest of the playing year. This initial phase will cost in excess of £40,000 and together with an increased Greens Team and increased budget, hopefully will show you our commitment to improving your golfing experience here at The Warwickshire.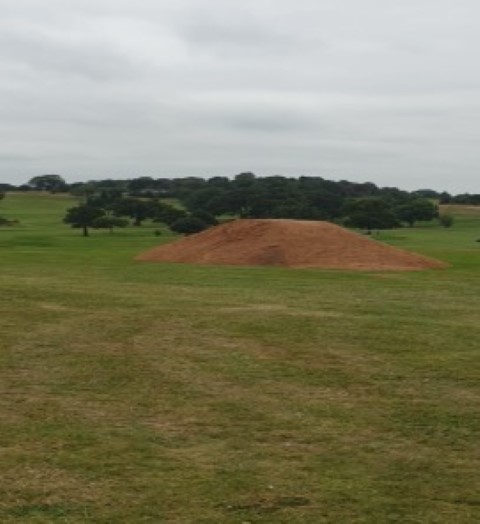 Captain's Update
What an exciting few weeks! Perhaps most importantly and definitely most impressively, our scratch team closed out the league competition in style. A great win away to Hearsall on the 17th confirmed they would top the league with a round of matches to spare. The final league table has us in 1st place with 6 wins and two draws from the 10 matches, comfortably ahead of Hearsall in second place - a great result.In the individual player of the league standings we have the top 3 spots too - congratulations to Ben Beramont, Ian Smith and Chris Laird. A big thank-you to Chris Laird for his ongoing captaincy; he has built a squad and a culture we should all be proud of.
Member feedback has highlighted the need for fun golf with a social element. These were delivered in style with two Members' Social golf evenings. Mixed teams, from all our sections, played in team formats then met for food and a drink afterwards. On each occasion the buzz afterwards showed what a great and vibrant community we have. We are really looking forward to growing these with a more complete calendar next summer.
We closed the month with a busy bank holiday weekend. Saturday saw us running the G Cup our greensomes Board competition. 19 teams competed in a competitive yet fun format. At the end of play just 3 points separated the top 7 teams. Congratulations to Nikolas Kyriacou and Philip Thompson for their impressive winning score of a net 70.
August Bank holiday Monday saw our final competition of the month. 80 members from across the Ladies, Men and Seniors turned out to play in our Captains Charity Day. A mixed individual and team competition returned close results in all categories. The real winners though were our two charities who will share £2260 raised, so far, by the generosity of our membership.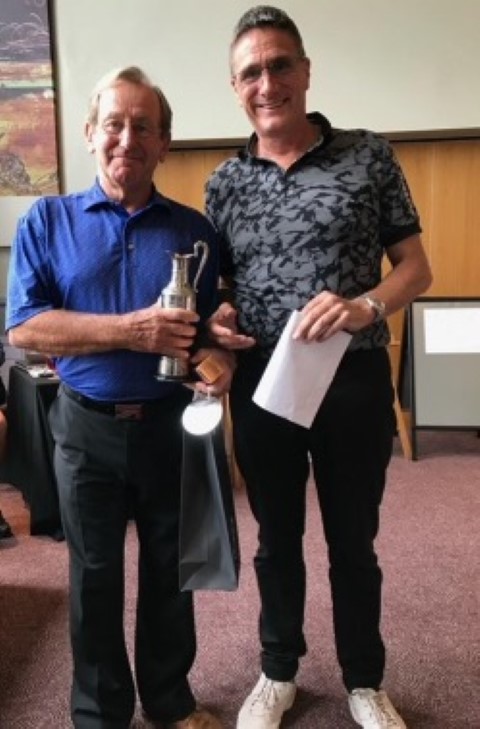 You asked, we acted
We recently received some comments about slow play, and mention of people playing off the white tees, two balls behind four balls and five-hour rounds! While we welcome golfers of all abilities, our course marshals have been reminded that they must monitor and enforce our speed of play policies in a consistent yet friendly manner. If you have fallen back relative to the group ahead of you, you are behind!
Tips for speeding up play
Many of these tips have nothing to do with rushing your play, but rather being ready to play, and with using common sense on the golf course.
The bottom line is, as soon as it's your turn to play, you should be ready to step right up and make the stroke. Always choose the correct set of tees to play from. Members of a group should not travel as a pack, with all members of the group walking together to the first ball. Each member should walk directly to his own ball first.
When two players are riding in a buggy, drive the buggy to the first ball and drop off the first player with his choice of clubs. The second player should then proceed to his ball.
Always hit a provisional ball if you are unsure if your ball has come to rest out of bounds.
A Note from our Seniors Captain
As expected, August turned out to be full to the brim with Seniors' events. As well as the usual Monday and Thursday competitions, and 9 Seniors' matches, there was much more on offer. We had the Past Captain's Cup and Dinner on 23rd, the Captain's Charity Day on 30th and the Seniors Singles Open on 31st. Taking the honours were Brian Steed, Frank Mills and David J Robinson respectively, so well done to all. It was especially good to resurrect the Captain's Charity Day and see it so well supported.
As we move towards Autumn, and sadly towards the end of my tenure, there is still a lot of activity out there on the courses. For starters we wrap up our friendly match series with our final 6 matches, culminating in the traditional end of season match away at the Cotswolds Club (or the Chippie as they like to call it) on September 29th.
Before that though, on Thursday 23rd we have our very own version of the Ryder Cup, so do join in and get partnered up, playing for either Europe or the USA. Last year the result went down to the last match on the 18th green. Great fun.
Closely following that is the Newman Cup AM AM on Tuesday 28th September, in which we join forces with our illustrious Ladies Section for golf and lunch. When we ran this comp last September we couldn't have a post-match celebration and presentation, but this year we are able to do it "properly", so do look out for details on the website. Do keep enjoying your golf everyone, whether it be social or competitive.
Andy Copland, Seniors Captain
Lady Captain's Update
The last few months have been very busy and some great weather has meant that we have been able to play every competition in our summer calendar. It's also resulted in quite a few great scores and lots of handicap cuts!
The introduction of The World Handicap System last November caused quite a stir at first but 10 months on everyone appears to have embraced the changes. Most players feel that it's a more responsive method of calculating their handicaps which reflects changes in form and playing ability.
The next few weeks are packed with events such Away Days, Away Stays, Ladies Solheim Cup, The Newman Cup etc. and finally on the 21st October, we have our Ladies Section Presentation and Handover Dinner. After two years as Ladies Captain I will be handing over the baton to my Vice Captain, Mary Martin, and looking forward to a quiet winter! We've run lots of events this year, too many to include in this news item, but below is a snapshot of just a few:
Club Members Nights – 22nd July & 6th/20th August
Due to Covid-19 restrictions we were unable to run our Club Members Nights until after the 16 th July. However, despite being a little late in the season starting them they turned out to be a great success. They will be a regular feature in next year's golfing diary and will probably start in early May 2022.Photos below of the winning teams from the 3 evenings that we did manage to run. Winners each received a sleeve of personalised balls ("Members Night Winner") and the entry fees totalling £121 are being donated to the Warwick Myton Hospice.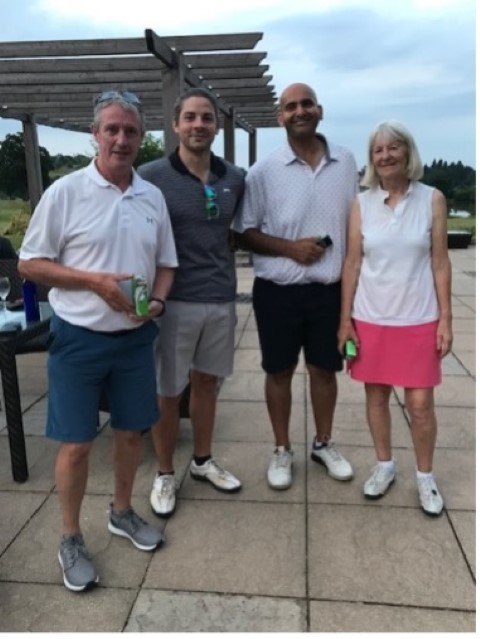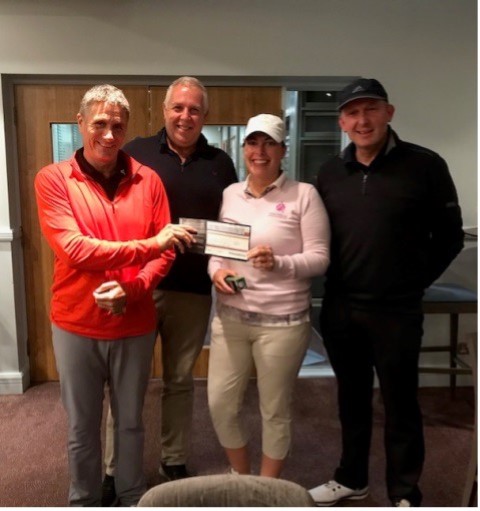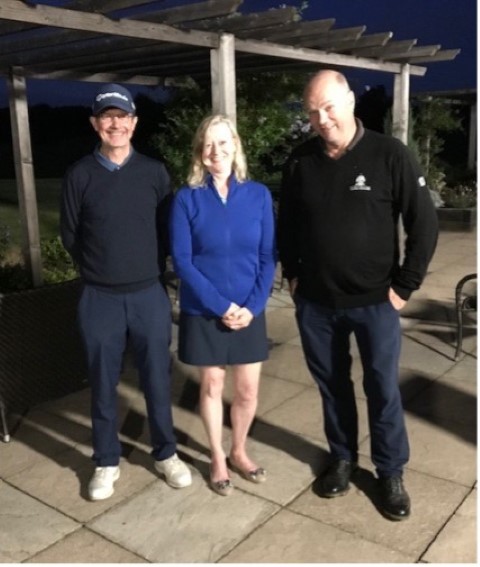 18th August – Women on Par - Write up by Mary Martin, Ladies Vice Captain:
An initiative promoted by England Golf to get golf clubs to encourage ladies who have had some golf lessons or have a little golf experience already to carry on their golf journey by meeting like-minded ladies and join a golf club.
I was so pleased with the response from the posters we put up in the leisure club changing rooms, the driving range and the ladies golf changing room. On Wednesday 18th 13 ladies joined us to play the Par 3 course. Avril MacLeod, Jane Brooks and Barbara Chambers kindly offered to help out on the evening.
Each of us took 3 or 4 ladies round the par 3 encouraging and helping them with some etiquette and rules. The 4 ladies I walked with were of 4 different levels of golf experience, but they encouraged each other and we had a few giggles.
Afterwards we gathered back at the club house to share some Pimm's and nibbles. There was a lovely buzz and most of the ladies were happy to share their contact details to help find Par 3 playing companions in the future. This was the most rewarding aspect of putting the evening together -seeing ladies reach out to each other to enjoy golf. Photos below are of our volunteers Barbara, Mary, Avril and Jane and a shot of the participants enjoying their Pimm's.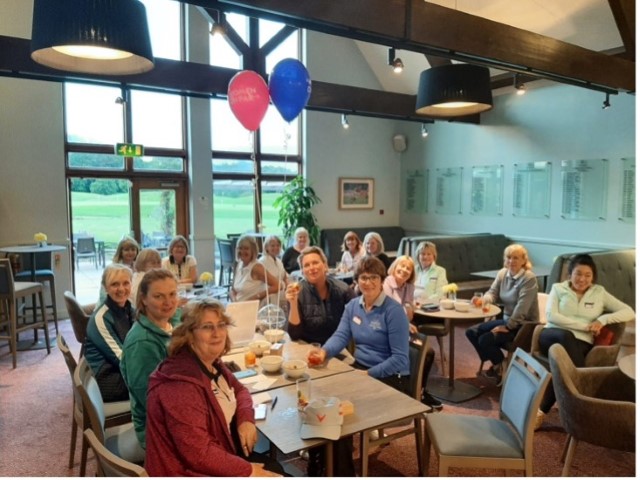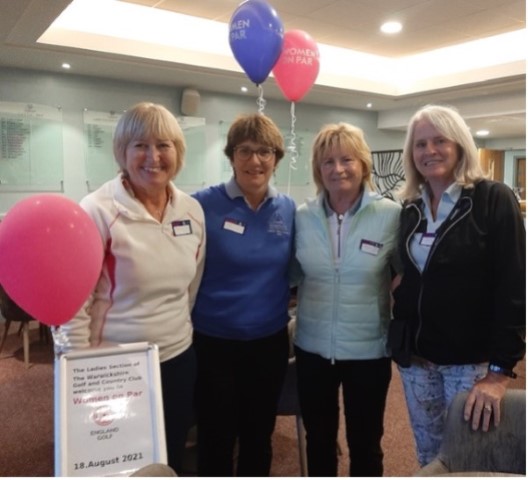 30th August – The Warwickshire Captains Charity Day Trophy Competition
On a grey and sometimes cold Bank Holiday Monday 80 members turned out to play in our Captain's Charity Day Competition. The aim of the day was to find our 2021 Captains Charity Day Champions, include some fun team golf and raise money for the Captains Charities (Warwick Myton Hospice and SWFT Breast Care Centre at Warwick Hospital). We achieved all that and a lot more!
Thank you to all who entered the competition, bought raffle tickets, guessed the captains drives, entered the auction and made personal donations. The current sum raised is an amazing £2260. A shout out to Patrick Ferguson (General Manager) and his team who sourced many of the auction items which raised £920 of the total sum. Our Food and Beverage Team were incredibly efficient, and Chef Marcin produced a sensational Late Summer Buffet enjoyed by everyone.
Also a thank you to Jane Martin (top raffle ticket seller), Chris Pope our Auctioneer and the team who helped pull the event together: James Fuller, Andy Copland, Mary Martin, Chris Grimshaw, Richard Martin and Bev Grimshaw.
Photograph: The Warwickshire Captains prior to taking part in "The Captains Drive In".James Fuller, Kathy Goddard and Andy Copland.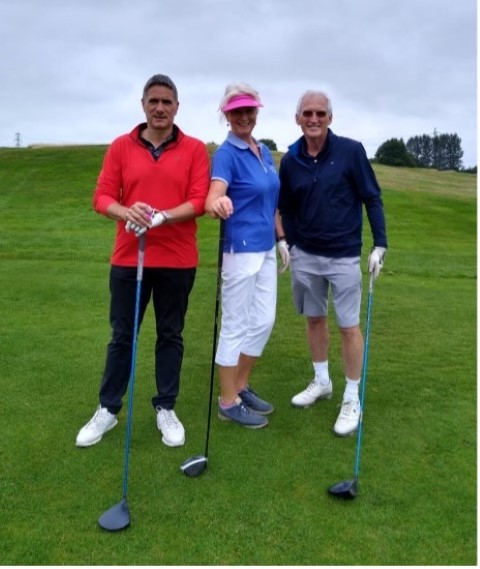 Kathy Goddard, Ladies' Captain
Ryder Cup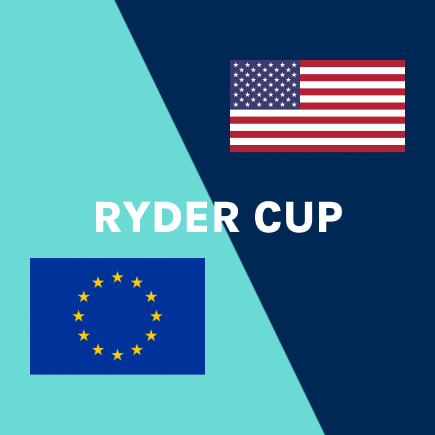 The 43 rd Ryder Cup is upon us! The captains have made their wild card picks and Europe look to win on away soil for the first time since 'The Miracle at Medinah."
Taking place from 24th – 26 th September, the biennial men's golf competition takes place on the rugged links-style Whistling Straits course sculpted along two miles of Lake Michigan shoreline.
Each of the first two days includes one four ball session and one foursomes session. The final day is reserved for 12 singles matches.
Europe need 14.5 points to win the trophy, with the odds and the crowds against them. They need to show the spirt of the European ladies Solheim Cup team who recently won on American soil. To stay up to date with all the latest news visit https://www.rydercup.com/