Friday 24th September 2021
While the summer may be behind us, as we head further into autumn and the mild weather continues there's a wonderful feeling of optimism in the air. It brings me great happiness to see your smiling faces again after so many months behind screens and masks.
If you're looking to get back into a healthy routine this autumn, there's no time like the present. We've listed a few reasons why September is our favourite month to get active and make some lifestyle changes, plus a few healthy recipe ideas should you need inspiration in the kitchen.
Gym Update
With only a few weeks until Christmas, why not get ahead of the game? Come and see George and his team for new workouts and diet information so that come December you can reward yourself for staying active this autumn! 12-week transformation packages are always available – just speak to a Personal Trainer to get started. Finish the year off with a bang and finally get rid of any unwanted lockdown weight!
Also feel free to visit the team for basic instructions and technique tips for free weights. They're a great way to take your workout to the next level and also to give some variation to keep your workouts fun!
Teen Gym
If your teen (11 to 15 years old) is joining us in the gym for teen gym be sure to set them up for their very own induction with our Wellness Advisors to show them the ropes. Teen gym is available 16:00 to 20:00 on weekdays and 11:00 to 18:00 on the weekends.
Crèche update
New faces are always welcome in the Creche so if you haven't visited us before why not pop in and see what is on offer? From Arts and Crafts to Toddler Cooking we're sure to have something to keep your little ones happy.
Our New opening times are as follows;
8.30am – 2.30pm Monday to Friday
8.30am – 1.00pm Saturday & Sunday
Charities update
We recently had our two members Nick Goodwin and John Ahearne complete their first TalentTech Charity Triathlon to raise money for Warwickshire Air Ambulance. They started their day with a 1500m swim in our clubs pool and then went onto a 40km bike ride around the roads of Warwick, Leamington and Kenilworth. They finished off their day with a 10km trail run through the woods of Leek Wootton and came back to have their final team picture at The Warwickshire.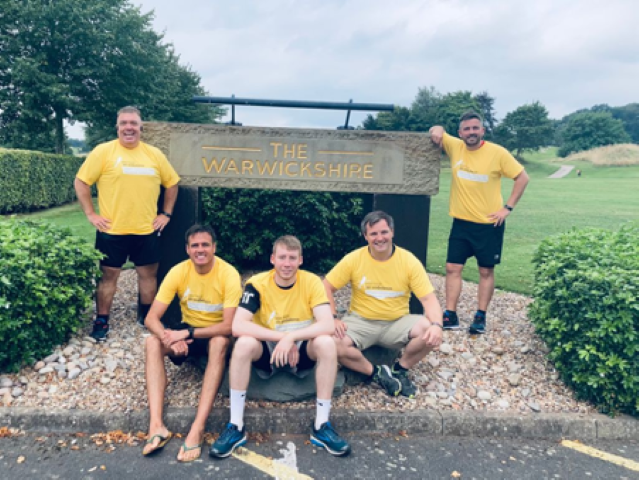 Thank you to all our members who supported Mike Bernamont on Monday 20 th September, who was on our spin bike cycling through the day to collect donations on behalf of Versus Arthritis Charity! Mike was able to collect a total of £306.11 from his 6 hour endurance cycle here at The Warwickshire to raise money for Versus Arthritis!!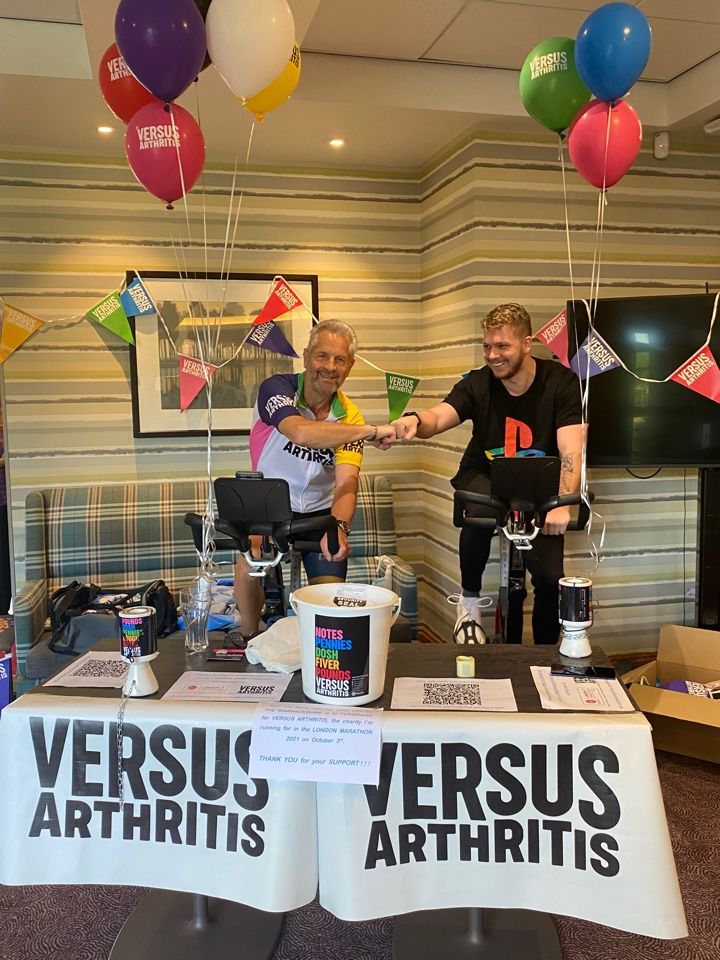 Class spotlight: Yoga
Yoga: Yoga is a group of physical, mental, and spiritual practices or disciplines which originated in ancient India. Yoga is one of the six orthodox schools of Hindu philosophical traditions. There is a broad variety of yoga schools and practices, and each instructor brings their own experiences into their teaching.
Yin yoga: This usually consists of a series of long-held, passive floor poses that mainly work the lower part of the body - the hips, pelvis, inner thighs, lower spine. These areas are especially rich in connective tissues. The poses are held for up to five minutes, sometimes longer.
Hatha Yoga: Hatha simply refers to the practice of physical yoga postures, meaning your Ashtanga, vinyasa, Iyengar and Power Yoga classes all derive from Hatha Yoga. Hatha practice postures are generally held for longer, are designed to align and calm your body, mind and spirit in preparation for meditation.
Family Yoga: In a world where parents and children are so busy, family yoga provides a wonderful place to spend healthy and happy, quality time together. No mobile phones, no iPads or TV, no other duties, it's just you and your children – an often-rare phenomenon in the 21stCentury!
Vinyasa Yoga: Vinyasa a style of yoga characterized by stringing postures together so that you move from one to another, seamlessly, using breath. Commonly referred to as "flow" yoga, Vinyasa classes are often themed offering a variety of postures and no two classes are ever alike.
Ashtanga Yoga: This is a highly structured vinyasa-style class. There are five Ashtanga series and each student must master every pose of the first series before moving onto the second series.
The first series begins with ten sun salutations (five A and five B), continues with a series of standing poses done on each side, and finishes with a set of inversions and seated poses, which are linked by a vinyasa sequence.
Mindfulness Yoga: Mindfulness Yoga is all about maintaining a moment-by-moment awareness of our thoughts, feelings, bodily sensations and surrounding environment, through a gentle, nurturing lens.When we practice mindfulness our thoughts tune into what we're sensing in the present moment.
Restorative Yoga: is a passive practice where you will be supported by props to enable you to create good alignment. By aligning the physical and mental body and practising stillness or gentle movement the nervous system is calmed, allowing you to let go
A fresh start for your fitness
As we get back into a routine with work and school, many of us are looking to reboot a healthier lifestyle following a long summer of BBQs, holidays and summer celebrations.
Whether it's overhauling your diet, getting more sleep or restarting a lapsed exercise programme, September and October are great months to review your lifestyle and ensure your goals are still relevant and achievable.
Here's 5 reasons to make some changes this month:
The weather is still warm and the evenings are light
September usually still offers a good amount of sunny weather and daylight hours which helps you to feel energised – so there's no excuse not to lace up those running shoes or head to that early gym session!
You can establish a routine
With a return to a regular routine you might well be able to commit to a more consistent diet and exercise regime where scheduling workouts is a simpler affair
Your diary frees up
For many people, the autumn means fewer social engagements in the calendar which in turn means less distractions (and excuses!) from your goals and more time to keep yourself motivated.
Christmas is just around the corner
You might not like to think about it just yet, but Christmas is just a few weeks' away! Lots of people are eager to celebrate in style this year, so Christmas could be a great focus for achieving specific health and exercise goals – or the perfect way to reward yourself for staying on track!
Set yourself up for a better January
Before those New Year's Resolutions roll around, get stuck into healthy habits now while the weather is mild and the evenings are lighter, and you'll have more chance of sticking to your routine come January.
If you're struggling to start or resume a healthier routine, a personal trainer could provide just the motivation and accountability you need. Speak to our Wellness Team at the club to discuss the best options for you and how to get started. (link)
8 healthy recipes to try this autumn
Try out these healthy and nutritious recipes to get your diet on the right track this autumn. From soups to salads to stews, stay inspired with new recipes to try at home no matter what the weather.
Warm stilton salad
Autumn doesn't have to mean saying goodbye to salads. There's a huge range of hearty salads out there which don't skimp on flavour or substance. Give this delicious stilton salad a try while the days are still mild.
https://www.bbcgoodfood.com/recipes/warm-stilton-salad
Pork & apple stew with parsley & thyme dumplings
When the nights get cooler and a comforting meal is in order, pack in 3 of your 5 a day with this nourishing autumn stew seasoned with parsley and thyme.
https://www.bbcgoodfood.com/recipes/pork-apple-stew-parsley-thyme-dumplings
Leek & butter bean soup with crispy kale and bacon
Soups are a great and satisfying way to eat more vegetables in one sitting, as well as being easy to prepare. Put a few portions in the freezer for easy access to a healthy dinner on those busy days.
https://www.bbcgoodfood.com/recipes/leek-butter-bean-soup-crispy-kale-bacon
Sesame salmon, purple sprouting broccoli & sweet potato mash
For a dinner rich in protein, omega-3 and antioxidants, look no further than this wholesome sesame salmon recipe. It couldn't be easier to prepare, making it perfect for a mid-week family feast.
https://www.bbcgoodfood.com/recipes/sesame-salmon-purple-sprouting-broccoli-sweet-potato-mash
Vegan Shepherd's Pie
This hearty veggie pie doesn't compromise on flavour. Packed with vegetables and finished off with a zesty breadcrumbs, it's the perfect answer to a chilly autumn evening.
https://www.jamieoliver.com/recipes/vegetables-recipes/vegan-shepherd-s-pie/
Pumpkin soup
What better way to get into the Halloween spirit than with a warming bowl of pumpkin soup? This creamy and nutritious soup peppered with fennel seeds and chilli flakes will keep you full without compromising on flavour. If you can't get your hands on a pumpkin, this recipe also works well with butternut squash or sweet potato.
https://www.delicious.com.au/recipes/no-chop-pumpkin-soup/seblnp2r?r=recipes/collections/autumnrecipes&c=f3bf723a-05a7-487d-bd4b-5bc8af042ca9/autumn%20recipes%20you%27ll%20fall%20in%20love%20with
Curried cod
Try this low-calorie cod recipe packed with iron with a chickpea base for a simple mid-week supper.
https://www.bbcgoodfood.com/recipes/curried-cod
One-pot prawn and noodle stir fry
Prawns provide an excellent source of protein, vitamins and minerals. Give this easy prawn stir fry with leafy greens a go when you need a simple but nutritious supper.
https://realfood.tesco.com/recipes/one-pot-prawn-and-noodle-stir-fry.html