August 2022
July and August have been probably the most difficult and rewarding months ever during my time at The Warwickshire. The longest period of dry weather I have experienced here tested our resolve and certainly tested the irrigation system. Considering the age of our irrigation network it has held up pretty well. What it does highlight is the need for better and more targeted sprinkler heads in a few areas, especially around the tees. This will be another ongoing task over the next few years.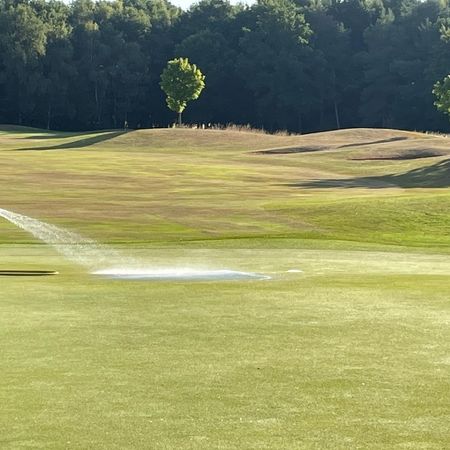 As you will have noticed, both the big lakes on Kings 7 are now very low and we are monitoring the levels daily to ensure we have enough water to last until the rains come. It is heart-breaking after keeping the fairways green throughout most of the season to have to resort to switching the fairway irrigation off and watch them turn brown and dry. This was a last resort but essential to ensure we have enough water to keep the greens and tees alive. Should the dry spell continue, unfortunately the next step will be to switch off the tees. The good news however is unlike the majority of courses we still have some moisture in the ground and as long as we get some rain fairly soon, the place will green up much quicker.

Someone asked me about the fish in the lakes when the levels are so low - rest assured, the fish will be absolutely fine. There is still plenty of water to sustain the fish population and there is a constant flow of fresh oxygenated water going into the lakes. You will also have noticed that we have turned off the fountain to prevent it sucking up silt and debris from the bottom and damaging it. It also prevents further evaporation.

On a positive note, despite record temperatures we have still managed to keep the greens in really good shape. We have been hand watering the greens with a wetting agent and micro tining them to give the water every chance of penetrating the surface rather than just running off. On top of this we have been performing a weekly scarification to reduce seed heads. We have also implemented a revised regular feeding programme and the results are very noticeable.




Another positive is that the overseeding that we carried out on the Kings in the spring has given excellent results and the greens on the Kings are looking much stronger than the Earls greens in my opinion. We plan to roll (no pun intended) this out on both courses in the future. All this means more good news for you pace-hungry golfers, as thanks to being able to keep the greens in good shape this year at 3.5mm, we can now go a little lower with the cut and have in fact just dropped down to 3.25mm, so you should see further improvements to the greens. Why haven't we done it sooner, I hear you cry? The answer is simple; we had every intention of doing so until the drought hit and there were too many unknowns to risk doing this during such a long period of dry weather. There is no doubt that the increase in course investment which allows us to use better quality fertilisers/wetting agents/overseeding, Mary Martin and the ladies' section supplying us with freshly baked cakes and having a great team this year are all huge factors in the improvements.

"Why are they spreading all that sand around when it's this dry?" Following the success of last year's sand capping we are continuing with our project to help the land drain more freely. Obviously we could have done with a little less dry grass to spread the sand on, but better this way than to wait until it's already wet before we put it on. This way the sand has time to work its way into the sward.

Sadly, the badgers are back in force earlier than expected and have already attacked two tees on the Castle course. We're assuming that as the ground is so dry that they have sought out a nice moist bit of ground to dig for grubs in. Last year we experimented with using dry dog food and bird food to discourage them from venturing onto the course, which as you can imagine caused a few raised eyebrows at HQ when they saw an invoice for dog food. This seemed to help last year and we will try again this year starting from now.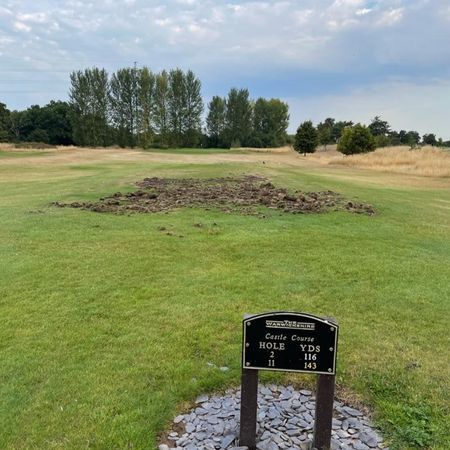 Thank you for your positive feedback and support so far this year. It's really great to see our course starting to take shape and the team are very proud with what we are achieving. We have a clear direction of how we can improve your course experience and we're focused on delivering you the best golf experience in Warwickshire. Lots to do… did I mention we accept cakes?

Dan Rowe, Course Manager
June 2022
There have been some significant changes to both courses since my last update. Though it seems like ages ago, it's actually only a matter of weeks since everyone was worrying about the greens following hollow tining, and I was complaining about putting cold water on the greens to keep them alive and further slowing recovery during a period of dry but cold weather. In the weeks since we have seen much higher temperatures, and suddenly everything has "sprung" into life.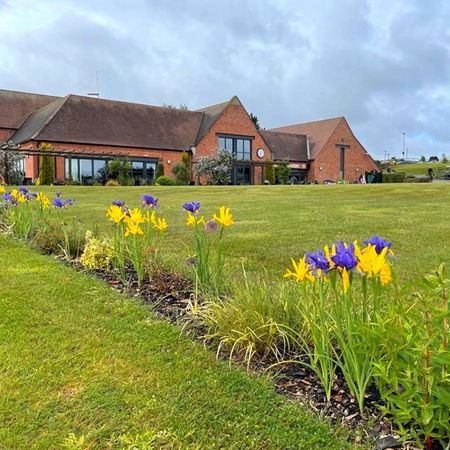 May is usually the best time of year for growth and regeneration with all the trees coming into leaf, and in particular the rhododendrons coming into flower, giving an amazing splash of colour albeit short lived.
Greens
Out on the course, we have gradually reduced the height of cut on the greens and are now down to 3.5mm and using our cutting units with groomers which have a set of vertical spinning blades in front of the cutting cylinder which gently lift the grass prior to it being cut, removing seed heads and lateral growth to give a much tighter finish. We only have one set of these at the moment, which means we have to use them on alternate courses; however another machine is expected soon which will allow us to carry out this task daily on both courses.
Topdressing
Now that the Jubilee bank holiday weekend has passed, we will be starting our topdressing routine every Tuesday throughout the summer. "Not more sand," I hear you say, but don't panic - we have planned this around you and it won't affect your golfing day as we will only be applying a very light dusting and brushing it in before play begins. This process will fill any blemishes left over from hollow tining and pitch marks, resulting in much smoother surfaces. We have also begun our regular spoon-feeding programme on the greens which is an application of liquid fertiliser every two weeks and allows us to use much less fertiliser in a more controlled manner giving more consistent growth.
Fairways
Elsewhere we have sprayed all the fairways with a very small amount of iron and nitrogen to provide some colour and a small amount of growth so as not to cause a huge surge. I should also mention that we have had to apply some weedkiller to the fairways to reduce the daisies and dandelions. It is something we try and avoid, however the large volume of weeds this year meant that we had no choice.
All in all, both courses are looking great now thanks to the hard work of the greens team with a lot of help from Mother Nature, and you should have an enjoyable summer.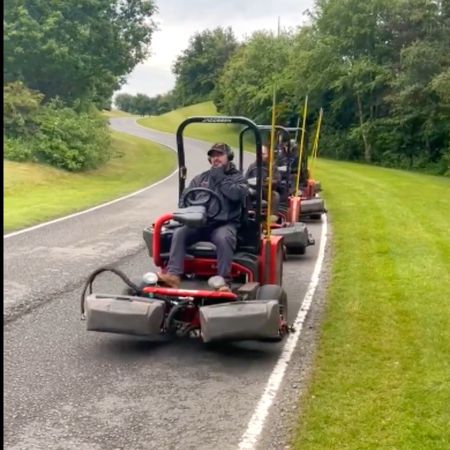 May 2022
Why do we do hollow tining? How long will it take to recover? Why do you always do it just when the greens are looking good?
These are just a few of the questions we get asked following and during hollow tining. Grass needs air to survive just like us humans, and part of the hollow tining process allows air into the surface while also removing thatch and relieving compaction.
Golf is played all year round and this constant traffic causes compaction, which is when all the air pockets in the soil are compressed together reducing air in the soil and reducing the drainage properties. You as golfers expect cut and prepared greens to play on all year round, so we therefore must take our machines onto the greens to achieve this by daily mowing and rolling, which both cause compaction. As the grass grows the lower leaves die off and create what is called thatch. This in turn causes the surface to become spongy and waterlogged, as any water gets trapped in this layer which again prevents water movement through the soil causing the roots to rot, and a waterlogged thatchy green is especially susceptible to disease. Therefore. we need to do hollow tining to reduce this thatch layer - and over recent years we have been forced to leave out this process or not do it as frequently as we would have liked.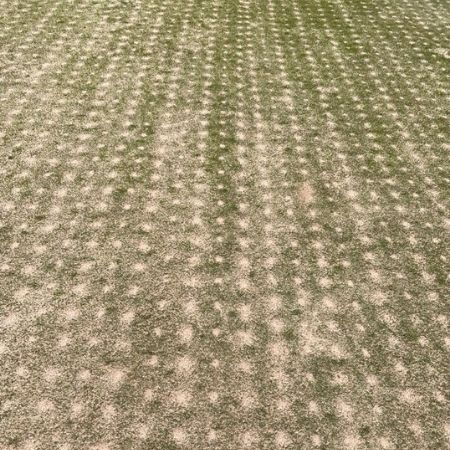 How long it will take to recover is very weather dependent, and as we try and carry out this work either before the start of the season or at the end of the season so as not to disrupt playing season, this has a huge impact on recovery times. For example, this year the ground temperature is still too cold to promote any meaningful growth and we have in fact had several frosts following springs maintenance which further slowed recovery. So the million dollar question is, do we do it in the middle of your playing season when we are likely to have better recovery or do we get it out of the way beforehand to allow you to have an uninterrupted playing season?
Despite all this, the team have worked wonders this year and managed to not only get the maintenance done in three days but during that time we also carried out a full fairway divoting session on both courses. We have over seeded the Kings greens with a new grass variety that should in time give us better winter colour and more resistance to disease.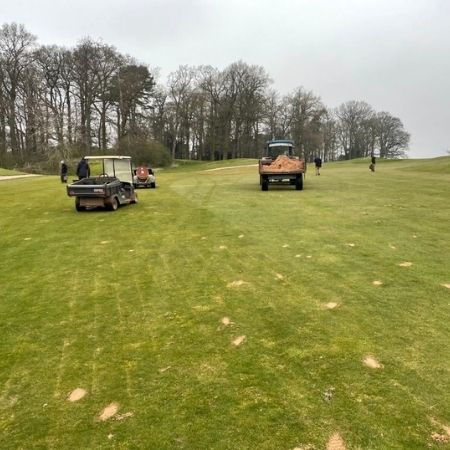 The greens on the Kings course are obviously about a week behind the Earls but are making good progress and we will continue to work on them to get the best surfaces we can. We have invested in new ball washers and bins for the course which are moveable so we can place them in the most suitable places for all sections. Hopefully this means placing them away from dog walkers who insist on putting their dog mess in the bins, so if you think that there aren't enough bins in certain areas, that's the reason why. We have also installed new numbered fairway discs (100,150 and 200) as well as replacing the nasty old wooden hazard posts with shiny new recycled plastic ones (we do still need a few more of these). All the tees have had fertiliser applied in readiness for the warmer weather and the Kings greens have had their first application of spring fertiliser to help boost recovery with the Earls planned for next week. We will shortly be putting out some very expensive new flags, pins and cups so keep a look out and let us have some feedback.
We're all set for a good season with lots of new team members and some new pieces of equipment - all we need now is a bit of warm weather and an occasional shower of rain!